Refrigerated Shipping Containers
SEA Containers offers one of the largest ranges of new and used refrigerated containers for sale in NZ. Also known as reefers, these operate at temperatures between -20c and +18c, making our refrigerated containers ideal for the storage of temperature-controlled products like food and drinks.
Refrigerated Shipping Containers for Sale
For new and used refrigerated containers prices, contact our team today.
To ensure you're provided with a high-quality product, we comprehensively test our refrigerated containers prior to customer delivery.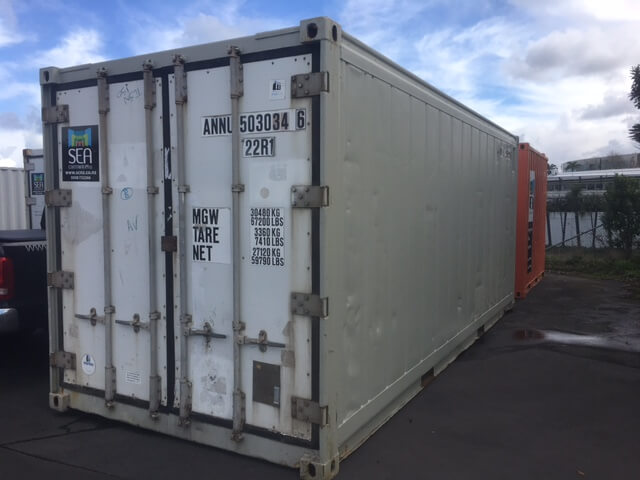 SEA Containers stocks and has access to a wide range of new refrigerated containers. Providing both 20ft and 40ft refrigerated containers for sale in NZ, we can ensure that you get the right unit to meet your unique requirements.
New refrigerated containers can serve a variety of purposes. While primarily utilised for logistics purposes, new refrigerated containers are well suited to events such as festivals, corporate outings and functions. Refrigerated containers are becoming increasingly popular amongst customers within the event market, as their excellent temperature control enables food and beverages to be stored safely for extended periods of time.
In addition to our new refrigerated containers, we also provide second-hand reefer containers for sale, available primarily in 20ft and 40ft sizes. Our used reefer containers are a cost-effective and practical way to store or transport perishable goods.
Due to the insulated nature of the containers, many customers prefer to store products that require more consistent temperatures. For this purpose, we can also supply non-operating containers. You can learn more about our used shipping containers here.
SEA Containers also provides refrigerated containers for hire, for those who only require a container on a temporary basis. With flexibility in mind, we can organise leasing plans for refrigerated containers for both short and long-term periods. To get an accurate price on hiring a refrigerated container, speak to one of the regional managers of SEA Containers NZ. Our shipping container transport and delivery service is fast, cheap and efficient.
Whether you're looking to purchase one of our refrigerated containers or hire one for a short period, SEA Containers offer a nationwide network of experienced individuals ready to assist you.