Used Shipping Containers
SEA Containers NZ offers an extensive range of used shipping containers for sale NZ-wide, ranging from refurbished units suitable for fulfilling export and domestic storage requirements to containers for farm and construction use.
With depots on the North Island and South Island of New Zealand, we can easily transport our units to your site. 
Used Shipping Containers for Sale
Our used container sales team can organise the supply of quality second-hand storage containers ranging from 10 to 40 feet in length and varying in height from 2.6 metres (standard height) to 2.9 metres (the height of high cube containers). 
10ft high cube containers are high capacity storage units with doors on one end — ideal for customers with limited space. However, 20ft and 40ft shipping containers are equipped with doors at both ends for easy access and unloading.
The price of second-hand containers depends on the condition and intended use of the unit. So, talk to the experts at SEA Containers NZ to ensure you purchase the right container to suit your requirements.
Our container grades for sale and hire include near new A, B and C grades.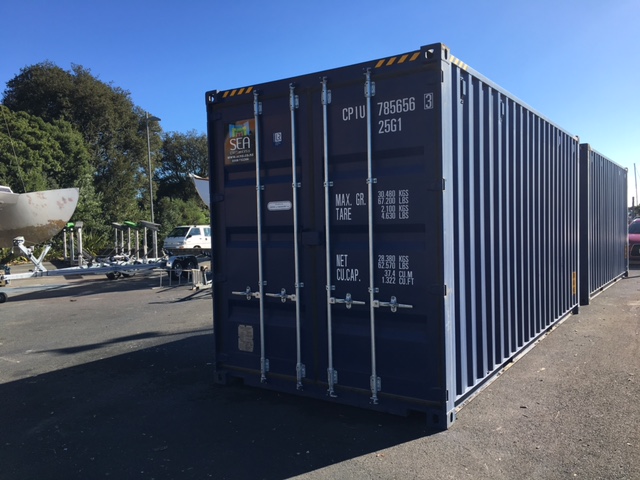 FAQs
Should I buy a new or used shipping container?
Deciding between a new and used shipping container depends on your budget and the purpose of the storage container. A refurbished shipping container will cost significantly less, but new containers are the best solution for pop-up shops, extra storage for valuable goods, or home modification. 
What are shipping containers made of?
A 20ft container is manufactured from high-quality corten steel, which is corrosion resistant and designed to withstand sea conditions. In addition, high-quality rubber seals ensure the storage container is wind and watertight to protect cargo. The internal flooring is generally made of hardwood.
Do you buy back containers?
Yes! However, to provide an accurate quote for a buy-back, we also factor in transportation costs and how long we will need to store the container before re-sale. We may also decline a buy-back if the unit is in an inaccessible location.