Flat Rack Shipping Containers for Sale
SEA Containers NZ offers a range of high-quality flat rack shipping container options throughout New Zealand. Unlike general purpose units, collapsible flat racks feature a robust steel platform and two folding walls – sometimes 'flush folding'. The only disadvantage of this container type is the absence of walls which makes them structurally weaker. Conversely, non-collapsible flat rack units have fixed ends on the short sides to support a more significant top load. The solid base and lashing rings installed on side rails, floor and corner posts secure the cargo.
Flat rack containers are an ideal solution for numerous situations:
The reinforced floor makes flat racks suitable for transporting cargo such as steel, industrial equipment, and goods with extra-large or unique dimensions.
Transporting machinery, boats or vehicles.
Flat racks have no roof or side walls, allowing regular and easy access to cargo.
SEA Containers supply both new and used flat rack container styles to suit your needs. In addition, our flexible transportation network provides efficient container delivery by road, sea, or rail using a crane truck or a side-loading swing lift.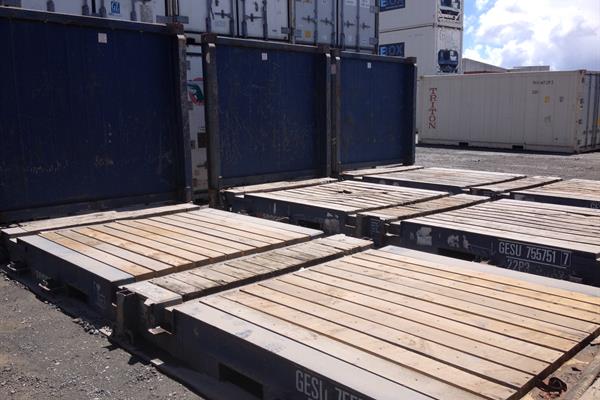 Request a Quote
We would love to help you find a flat rack container for sale that meets your needs. Contact our friendly team for more information or to request a quote. You can reach us by phone on 0508 732 266 or request a callback via our online form.
FAQs
What are flat rack containers used for?
Used flat rack containers transport various types of heavy or oversized cargo. The most common types of cargo shipped on flat rack containers are machinery, factory parts, heavy industry components and equipment. 
What is the payload of a flat rack container?
Flat rack containers are engineered to ship heavy loads. 20ft standard containers can support a load of approximately 31,000 – 34,000kg, and a 40ft can carry around 39,000 – 44,000kg.
Can I collect my container?
Yes, you are welcome to collect it from any of our depots.