20 ft Container for Sale NZ
At SEA Containers, we offer a variety broad range of 20ft shipping containers for sale, each designed to suit your specific requirements. Whether you require a container for storage, transportation, or a unique project, we have a solution for you.
20ft Containers
Our 20ft containers, whether you're looking for a standard container or need specific shipping container sizes, are durable and versatile units. They come in a standard height or a taller high cube size. These boxes are manufactured to withstand extreme temperatures and conditions, ensuring your cargo remains safe and secure. With easy access doors and added security, these containers offer the ideal storage and transport solution for a variety of goods.
We can also provide refrigerated containers. Also known as reefers, they can operate at temperatures between -20°C and +25°C, making them suitable for goods requiring specific temperatures. Our refrigerated containers supplied within NZ come with a machine warranty for peace of mind.
Uses for 20ft containers
The 20ft container offers ample space and is versatile, catering to a myriad of purposes. Many of our business clients choose these containers for transportation of goods, while individuals often select them for personal storage or even as base structures for tiny homes or office projects. Their spacious interiors, combined with the container's strength, offer a secure environment for all types of materials.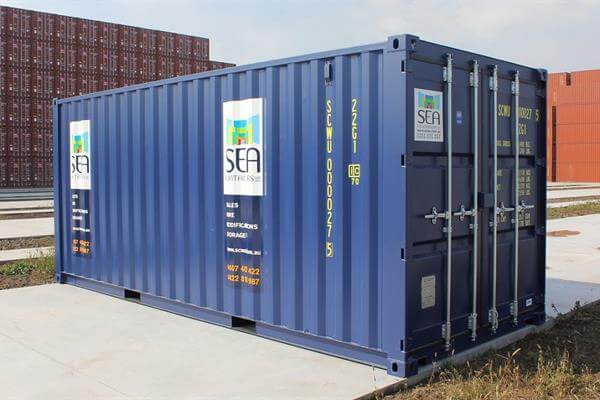 Types of 20ft shipping containers available
At SEA Containers, we stock a diverse selection of 20ft containers in various grades, from new containers to second hand containers. From the standard container and high cube to specialised ones like side-opening or reefer units, each container type is designed to fit specific requirements.
Benefits of 20ft containers
Our 20ft containers come packed with advantages. They offer a versatile space to store goods, equipment, or other products, are easily transportable, and can handle freight in harsh conditions. Whether you're looking for economy grade or higher grade options, they're competitively priced and available in both brand-new and second hand container conditions to match any budget.
Why buy a 20ft shipping containers from SEA Containers
SEA Containers is your trusted partner for 20ft containers in New Zealand. Our range spans across various sizes, ensuring we have the entire container spectrum covered. With our expansive collection, experienced team, and unwavering commitment to quality, we are poised to cater to every request and requirement. Our history in the cargo and container business equips us to understand the unique needs of our customers, be it for hire, purchase, or custom modifications like shelving or modifications for cafes.
Frequently asked questions
Secure your 20ft container now
Ready to find your perfect 20ft container? Contact our team today for more information or to request a quote. We're here to guide you to the best container solution tailored for your needs.