Using a Shipping Container for Storing and Transporting Hazardous or Dangerous Goods
Dangerous goods containers are specially designed for dangerous goods freight. They're hardwearing and built to keep flammable liquid spills contained so you can safely store or carry hazardous substances and explosives. For dangerous goods transport or storing dangerous goods, NZ's SEA Containers has the perfect solution for you.
What Are Considered Dangerous Goods
Harmful goods are classified into several classes of dangerous goods, which include aerosols, explosive materials, corrosive substances, flammable liquids, petrol, and toxic gardening products with environmentally hazardous properties. According to the Land Transport Rule, dangerous goods carried by any vehicle must be appropriately packaged and labelled.
Whether you're responsible for consumer commodities, dangerous goods in limited quantities or dangerous goods in large quantities, check the Land Transport Rule for further information about NZ regulations and your responsibilities. If you're unsure if a product is in a dangerous category, check the package or contact the manufacturer before completing your dangerous goods declarations.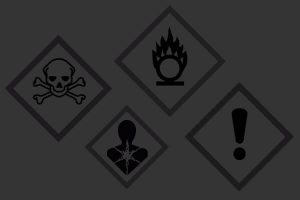 Using Shipping Containers to Store Dangerous Goods
A perfect onsite storage solution, a container unit is the perfect way to keep your documents and filing cabinets secure. Use a mobile container office at your construction site location and transport or remove it once your project is complete.
Transporting Dangerous Goods in New Zealand
Containers can be configured to become portable offices, complete with roof and wall insulation, electricity, plumbing, doors, and air conditioning. Add modification accessories to your office container, such as fire extinguishers, shelving along the walls, and workbenches. You can also add additional doors for easy access and extra windows for ventilation.
Purchase or Hire Dangerous Goods containers from SEA Containers
For questions about dangerous goods training, your responsibilities in safe handling, and the dangerous goods declaration form, NZ's SEA Containers can help. Contact us to purchase or hire a dangerous goods container.