How Much Does a Used Shipping Container Cost
Used shipping containers are suitable for a range of purposes, including sea freight and safe storage. With our reasonable container prices, you can access a good deal without paying too much.
Factors that affect the pricing of shipping containers
The price of used shipping containers for sale depends on their condition, size, type, and supply and demand.
Sizes
The cost of a shipping container varies depending on its storage capacity. They come in a range of sizes, from 10ft., 20ft. (the most popular choice in length), and 40ft.
Types
All of our used container types are watertight and fit for purpose. Choose a standard container box, a dangerous goods container, or high cube containers for additional height. A standard shipping container is cheaper than a specialty container.
Grade and Condition 
Container grades refer to the container's condition. An A-grade container is delivered straight from the manufacturer. B Grade used containers are water tight but have undergone repairs, and C Grade containers are for sale "as is". 
Damages and History of Repair
Our second-hand containers may have a history of repair work from their time in the shipping industry, which affects the shipping container price.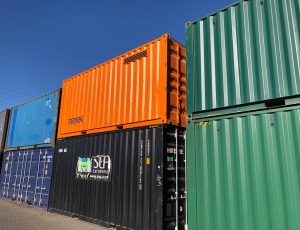 Delivery Fees
We transport storage containers to customers all over NZ. Fees for container relocations depend on your location.
Average pricing in New Zealand
We sell a range of brand new containers and cargo worthy used shipping containers for sale starting at $6,000. If you want to purchase containers for extra storage or prefer to hire a refurbished container, we have the right container for your budget in stock. Click here to compare costs or contact us for terms and conditions and to request a delivery quote.