Shipping Container Storage at Home
In an era where security and protection of our belongings are paramount, secure storage solutions are crucial. With sturdy construction, easy access and customisation options, shipping container storage ensures peace of mind by safeguarding your valuable possessions. SEA Containers offers affordable and safe container storage solutions to free up space in your home, garage or office. We ship New Zealand-wide.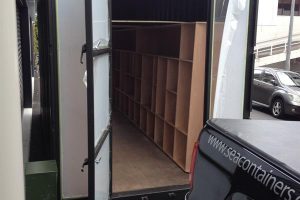 Cost-Effective Storage Solution
Rent or buy your own container to enjoy complete control over the storage space, allowing you to store and access your goods conveniently and securely. Opting for a shipping container eliminates recurring monthly rental fees associated with a self-storage unit, allowing you to make significant long-term savings. 
Secure and Durable Storage
Built with durable steel, containers are designed to provide exceptional structural integrity and resilience to protect your valuable assets. Robust locking mechanisms thwart unauthorised access, providing an added layer of security for your peace of mind. 
Customisable Storage Space
Shipping containers can be easily customised to accommodate a wide range of self-storage needs. Modify the interior with shelving, racks and compartments to optimise and organise space, or install climate control systems to safeguard temperature-sensitive items. Partitioning options allow you to separate different categories of stored items. 
For added convenience, buy shipping containers featuring doors at both ends. This unique design element allows for easy self-storage access to your business or household goods or to create versatile entry points for customised modifications. 
Eco-Friendly Storage Option
Reusing a shipping container for storage purposes is an eco-friendly option that helps reduce waste and promotes sustainability. Repurposing a shipping container eliminates the need for additional construction, minimising the environmental impact of building new storage structures. 
Mobile Storage Capability
Shipping containers are designed for efficient transportation. Whether you need to relocate to a new home or business premises or require temporary storage at a different site, they can be transported by truck, train or ship. Their portability eliminates the need to pack and unpack your things multiple times, ensuring that your storage solution remains adaptable to your changing needs and circumstances.
How SEA Containers can help you with your shipping container storage needs
A shipping container can provide secure and customisable storage options and safeguard your belongings from theft and weather conditions. Buy or hire used or new shipping containers from SEA Containers—your local shipping container specialists. We can have your self-storage container delivered right to your doorstep, as our extensive transport network allows for easy delivery New Zealand-wide. Need help choosing container storage? Contact us by phone on 0508 732266 or email [email protected] to help you find a container that suits your storage requirements. Request a quote from our friendly team today!